We offer a variety of music featuring local bands providing entertainment to please people of all ages. The concerts are Free and held at Bohemia Park, 101 N. 10th Street in Cottage Grove on Wednesdays from 6:30 – 8:00pm the last week of June thru the last week of August and are made possible with financial support through sponsorships from local chamber member businesses.  Bring your picnic dinner or purchase cuisine from one of the food booths.  There will also be a variety of vendors selling their products.  So bring your lawn chairs, blankets, and friends to this free, fun-filled atmosphere that is THE place to be in Cottage Grove on Wednesday nights!  You'll be glad you did!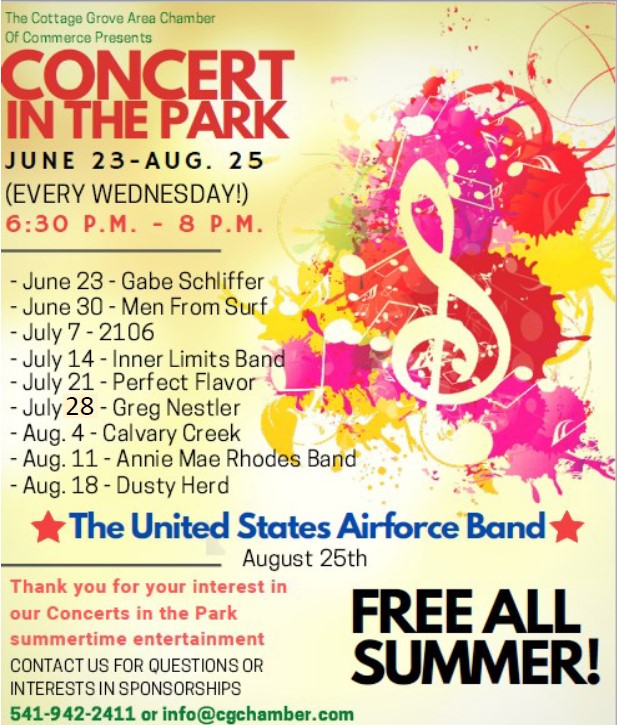 Market at Concerts in the Park
The market takes place in conjunction with the Concerts in the Park beginning the last Wednesday of June continuing every Wednesday from 4:00 to 8:00pm through the last Wednesday in August at Bohemia Park.
Food Vendors pay a fee of $20.00 each week or $15/week if paid in full at the beginning of the season.
Non-Food Vendors (art, crafts, info displays, etc.) pay a fee of $10 each week or $5.00/week if paid in full at the beginning of the season.
All Cottage Grove Area Chamber of Commerce members can participate for FREE