The goal of the Business Plan Challenge is to foster entrepreneurial ambitions through education and resources while ultimately contributing to the economic growth and vitality of the business community in Cottage Grove.
Participants will get access to the Business Plan class through SBDC – LCC. The classes will be every other week and held at the Community Center. There will be access to mentors during the off weeks. At the end of the class, they will have produced a business plan to enter into the Challenge. Participants are not required to take the classes to enter the Challenge. We will have a panel of judges that will review the business plans. At the Awards/Pitch event you can expect to see participants pitch their plans, then the judges select the winners and announce that night!
2024 Business Plan Challenge timeline.
Kickoff Event ------------------November 2
Register Participants -------------Nov– Dec
Business Plan Classes ----------Jan. 17, Jan. 31, Feb. 14, Feb. 28, & March 13. at 450 Birch Ave, Cottage Grove.
Mentoring-------------------Jan - Mar (the weeks in between classes)
The deadline for Submission-------April 17
Judging--------------------------April 17-30
Award/Pitch Event ------------------May 16
APPLY
We have 22 local businesses signed up for the 2024 challenge. You can still take advantage of the free classes, mentors, resources, and a chance to compete for a prize.
JUDGE
Our esteemed panel of judges is currently represented by experts from a variety of fields: law, real estate, business, finance, marketing, and more.
Judges use a scoring rubric to evaluate criteria, which can be complex and subjective.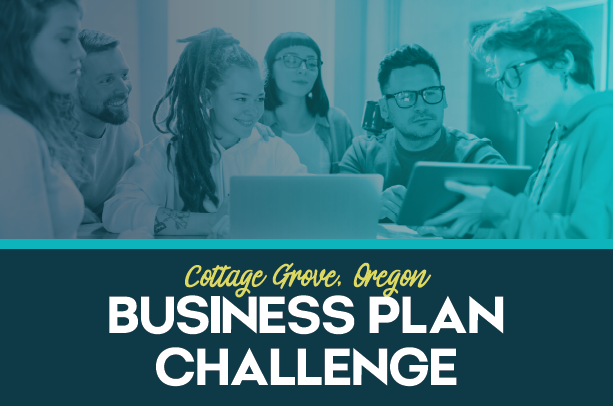 SPONSOR
We are looking for a $2,500 title sponsor to help us showcase to the community an increase  momentum. We are also looking for event sponsors at the $250 level.
CELEBRATE
The Cottage Grove Business Challenge Gala 
culminates the Cottage Grove Business Challenge by bringing our greater community   together to celebrate the winners and the leaders that made the challenge possible. Come meet our three finalists,  runner-ups, sponsors,  judges, and the supporting community, May 16th at the Armory.
The 2024 Business Plan Challenge brought to you by